93 Feet East
93LIVE Presents: DAAY / BOLLARDS / C TURTLE - 93 Feet East
93 Feet East is a bar, club and live music venue in the heart of Brick Lane, east London.
Bar
Club
Courtyard
Live Music
Brick Lane
East London
Shoreditch
Private Hire
Venue Hire
Space
Food
BBQ
Drinks
Parties
Feast
Showcases
DJ
DJs
Fashion Shows
Private Hire
Club Nights
House
Techno
Electro
Fuse
Old Truman Brewery
Subscribe to our mailing list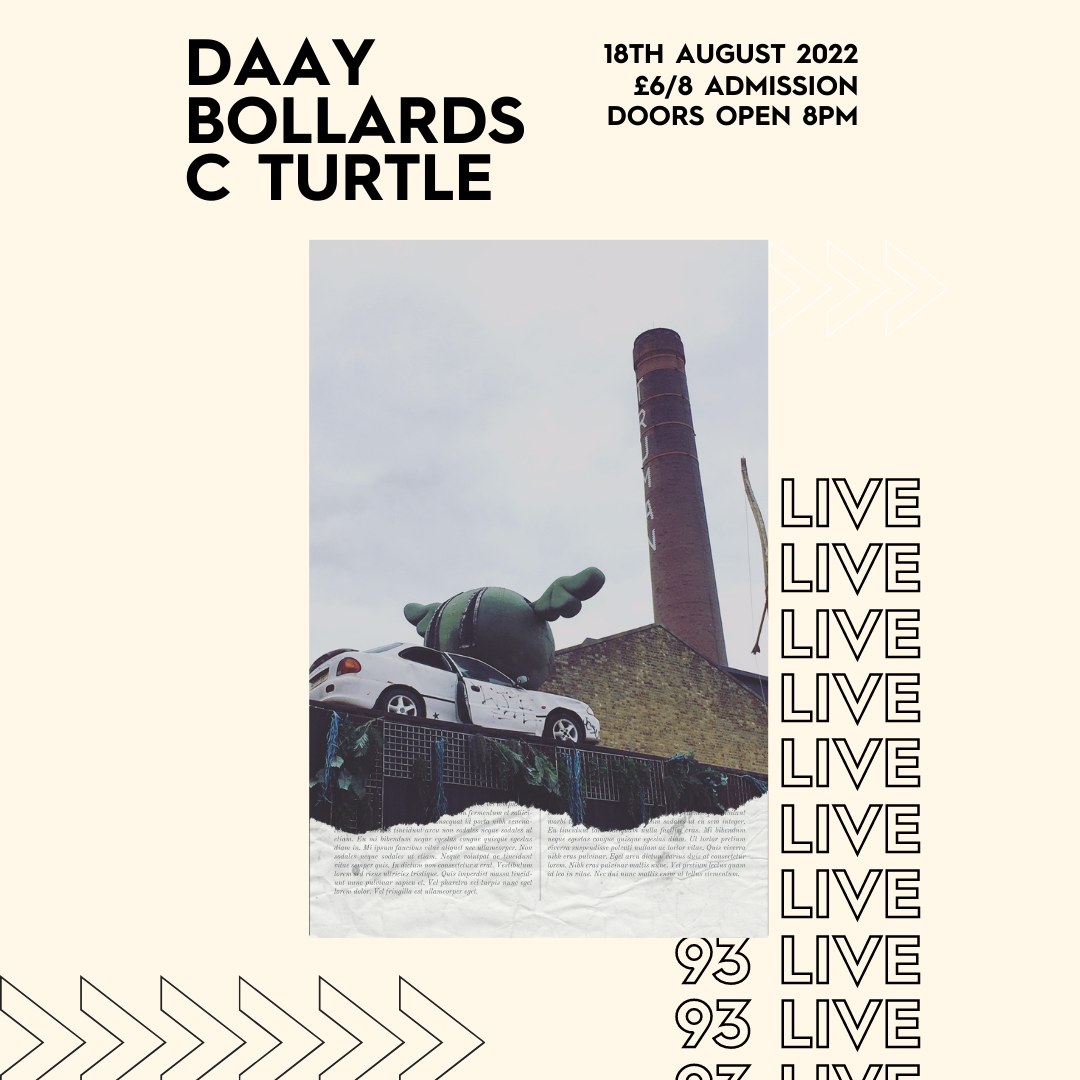 93LIVE Presents: DAAY / BOLLARDS / C TURTLE
The Hall
Formed in London by Alex Barty-King, the new melodic psych-rock project DAAY brings together five musicians from Lebanon and France. Sighting their influences as psychedelic jazz, dreamy mellow pop, and indie rock, the band have some serious groove, with powerful jazz parts, tropical-like drums and a unique blend of rock/pop song writing.
Skittish Art-Rock newcomers
BOLLARDS serve UP a refreshing slice of dungeon Disco. The London four-piece's spirited offering is an experimental blend of sparse Disco synths, oblique riffs and roomy radio-mic vocals. It conjures images of mindlessly roaming, endless back streets at dusk; the uplifting cadence bouncing with you as you walk. Taking inspiration from Deerhoof, The Fall and the jerky riffs of XTC.
C TURTLE is a London based lo-fi band originally formed by Cole Flynn-Quirke as a solo project. Now a four piece that create a pure amalgamation of considered sonic noise with tender lyrics