93 Feet East
Makin' Moves: 10th Birthday - 93 Feet East
93 Feet East is a bar, club and live music venue in the heart of Brick Lane, east London.
Bar
Club
Courtyard
Live Music
Brick Lane
East London
Shoreditch
Private Hire
Venue Hire
Space
Food
BBQ
Drinks
Parties
Feast
Showcases
DJ
DJs
Fashion Shows
Private Hire
Club Nights
House
Techno
Electro
Fuse
Old Truman Brewery
Subscribe to our mailing list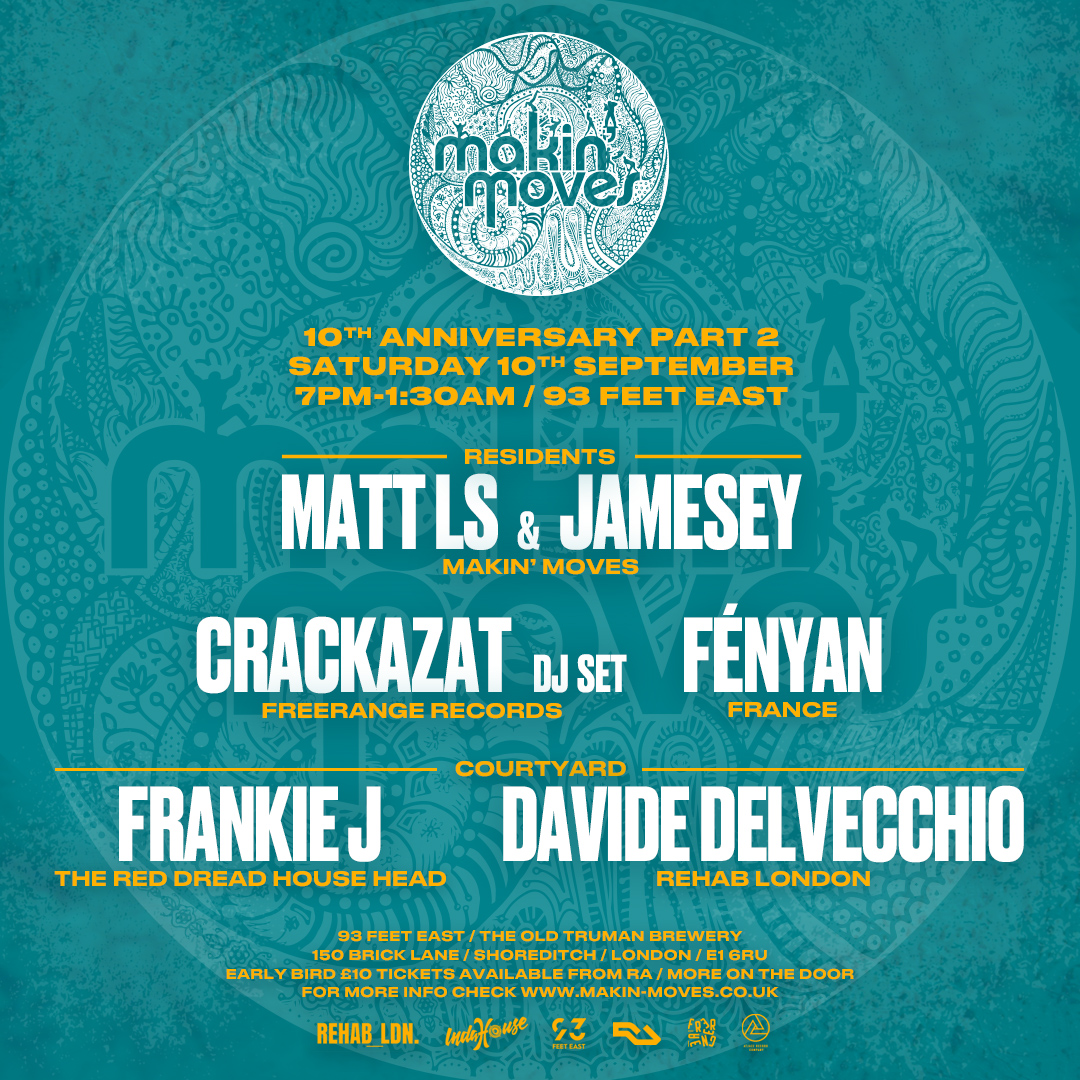 Makin' Moves: 10th Birthday
The Hall
Lineup:
Crackazat DJ set / live (Freerange Records)
Fényan (France)
Jamesey & Matt L-S (Makin Moves)
Courtyard
Frankie J (The Red Dread House Head)
Davide Delvecchio (Rehab London)
Following the amazing part one of our 10th anniversary party at 93 Feet East with Atjazz and Jimpster back in May where they both guys tore the house down, and left people asking "when's the next party guys?!" we head back to our favourite London venue for part two on Saturday 10th September! For this special event, Matt and Jamesey will be joined by Crackazat and Fényan in the main room. Crackazat absolutely smashed it the last time we hosted him back in 2020 and we can't wait to welcome him once again as he brings that unique energy with his dj sets and live keys! He's had a very busy year dropping his superb "Evergreen" album on Freerange Records plus some hot new exclusive remixes for us on the MM label so you'll have to be in the house to catch a glimpse of those for the first time!
Our second main room guest is Fényan who will be making his London debut and aren't we excited to be bringing such a talent to Makin Moves! This man is different class growing up learning his trade firstly as a house dancer winning global acclaim but more recently he's turned his hand to djing and producing working with the likes of Toy Tonics. His sets will have you hypnotised as he creativity works live elements over his unique beats!